give the foodie in your life a balsamic/olive oil sampler.
Whether you are welcoming new neighbors, celebrating a special occasion, seeking a business thank you or just because, we are able to customize any size basket or gift set to fit your budget.
We offer over 70+ oils and vinegars, plus a small pantry of specialty foods which includes condiments, pasta, risotto rice, salts, honey, and more. Some gift items are only available in-store.
The Balsamic Sampler includes Traditional, Fig, Pomegranate, Raspberry, Tangerine & Sicilian Lemon Balsamic Vinegars.
italian olive oil &
vinegar sampler
The Italian Sampler includes a fresh, seasonal medium intensity single varietal Extra Virgin Olive Oil, Garlic Olive Oil, Tuscan Olive Oil, Sicilian Lemon Balsamic, Fig Balsamic & Traditional Balsamic.
citrus olive oil &
vinegar sampler
The Citrus Sampler includes Blood Orange Olive Oil, Eureka Lemon Olive Oil, Persian Lime Olive Oil, Tangerine Balsamic, Pineapple Balsamic & Sicilian Lemon Balsamic.
Spice-A Licious
Olive Oil & Vinegar Sampler
The Spice-A Licious sampler includes Baklouti Green Chile Pepper Olive Oil, Cayenne Chile Pepper Olive Oil, Spicy Calabrian Pesto Olive Oil, Harissa Olive Oil, Serrano Honey Vinegar & Jalapeño White Balsamic Vinegar.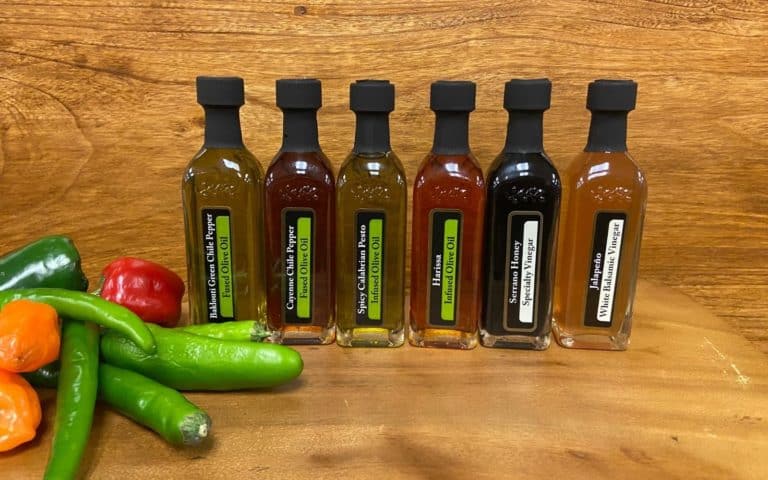 OV Harvest
gift certificate
Give the gift of fresh and healthy Olive Oil and Vinegar to your loved ones. The OV Harvest Gift Certificate can be used for all our in-store products for in-person shopping.